About Us
In 1990 we began experimenting with a unique hydroponic system we discovered in Europe. At that time, hydroponics accounted for about 70% of the retail market for indoor plants and almost 100% of the commercial interiorscape market in Europe. So we thought we should give this system try.
We started by growing plants and trees at our nursery in South Florida. As with any new growing method, we had our successes and failures. But I have to tell you, we quickly realized that plants grown hydroponically were bigger and stronger than plants growing in soil. And they were easier to take care of!
Using that same hydroponic system from Europe, we've built a retail store, a residental design business, and very successful interiorscape company - all with hydroponic plants of course. (This stuff really works!)
The question has always been, "if these plants are so good, why aren't they available in the marketplace?" Up until now, we just never found the right partnership for growing for the wholesale market.
Nancy McDonald with Debbie Shipman, shipping mgr
That changed two years ago when we met Nancy McDonald, the energetic owner of NGM Productions. Nancy operates a large, modern greenhouse facility in Mt. Dora, Florida. Perfect for growing hydroponic plants!
We've been working together building an inventory of hydroponic plants for the independent garden center market. We're also expanding our selection to include the interiorscape industry.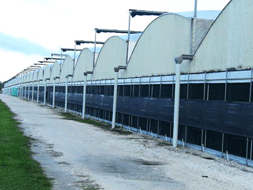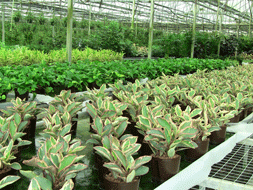 On your next buying trip to Florida, make NGM Productions part of your visit. We would love to see you and show you what we do.
See the complete line of EasyGroHydro plants at:
NGM Productions
2749 Britt Rd.
Mt. Dora, FL 32756