Hydroponic Herb Gardens
Growing From Seeds 
One of the joys of horticulture is watching new plants emerge from seeds.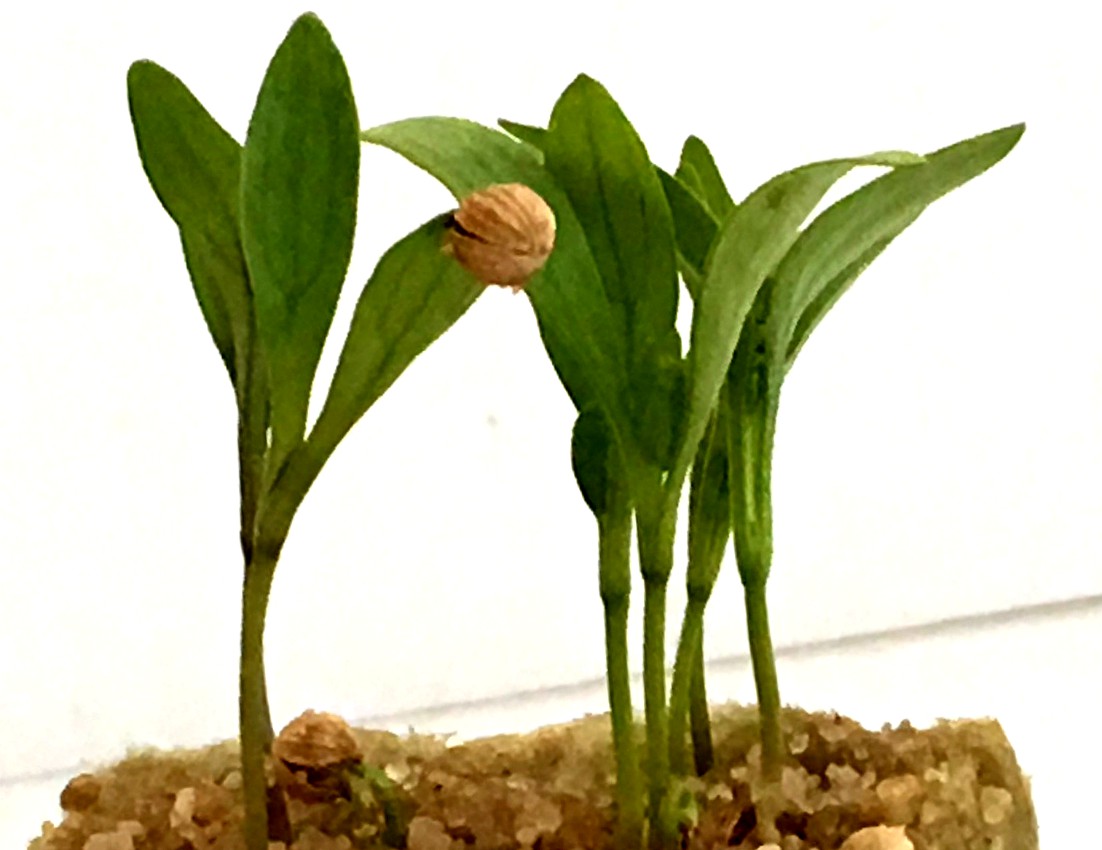 New seedlings. Notice the shell from the seed at the tip of the new leaf.
Growing from seeds is a delicate process. Too much water and fungus attacks the young, tender plants and they fall over and die (called damping off). Not enough water and they quickly dehydrate, shrivel up and die.  Air, water, and temperature have to be just right for success.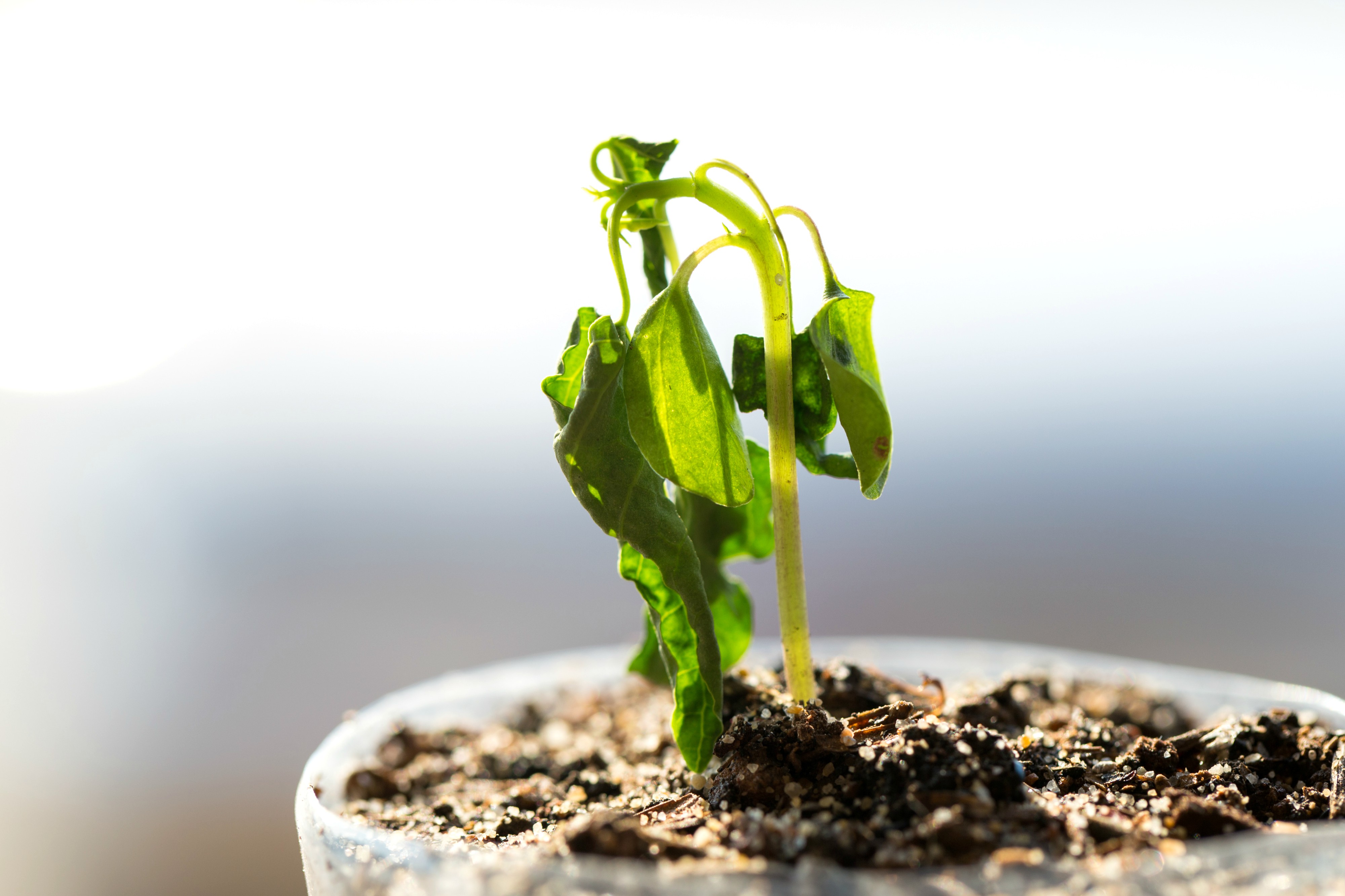 Young, tender seedlings need special care.
Germinating seeds in our hydroponic system is cleaner and easier than growing in soil - and you'll get good results every time!
We replace the soil with "Rockwool Grow Cubes" - a new and unique way to nurture seeds into seedlings. Rockwool Grow Cubes are are a sterile, inert growing medium that resists disease and provides an even balance of air and water for new growth.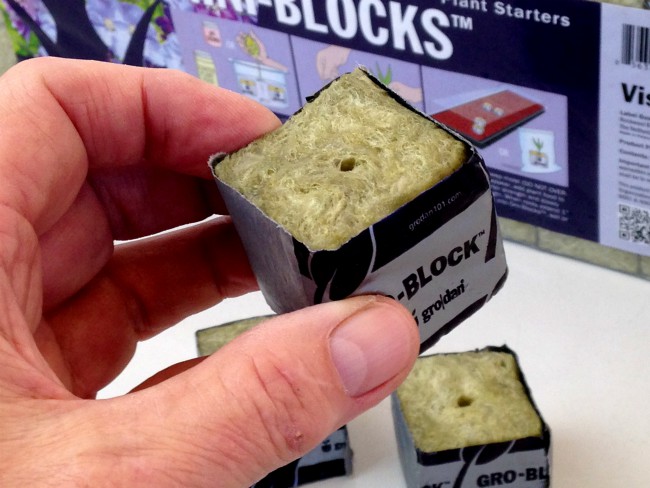 Rockwool Grow Cubes
more on Rockwool Grow Cubes  . . . 

As seedlings mature, they're moved to a Hydroponic Planter for growing on to harvest.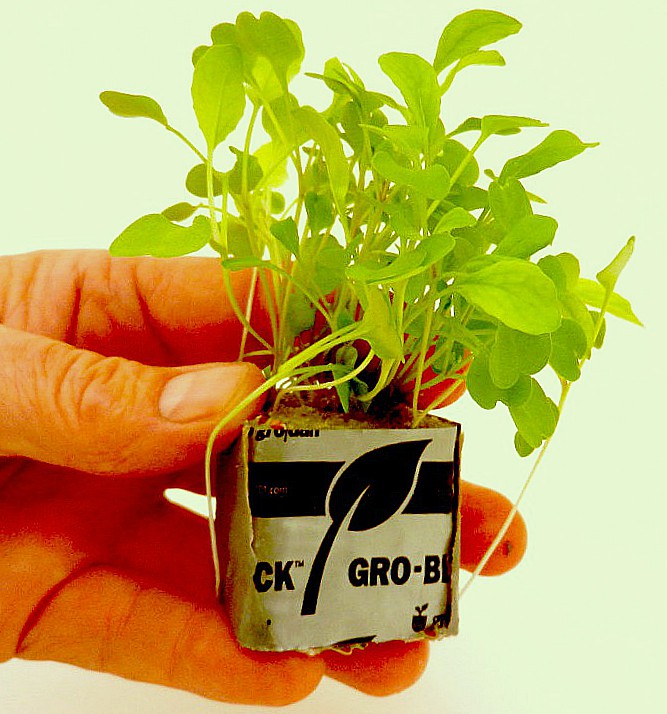 Mature lettuce seedling growing in a Rockwool Cube - ready to be planted into a Hydroponic System.
How to Plant Seeds in Rockwool Grow Cubes
1. Soak Rockwool Grow Cubes in clear water until they're saturated - about 10-15 minutes.

Position cubes in a watertight tray for planting. Any type of watertight tray or saucer will work.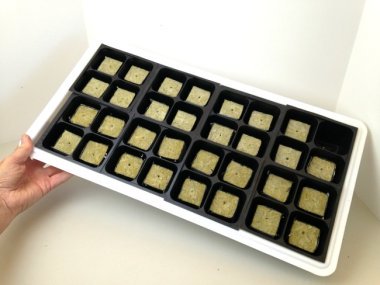 Rockwool Grow Cubes in our Grower Tray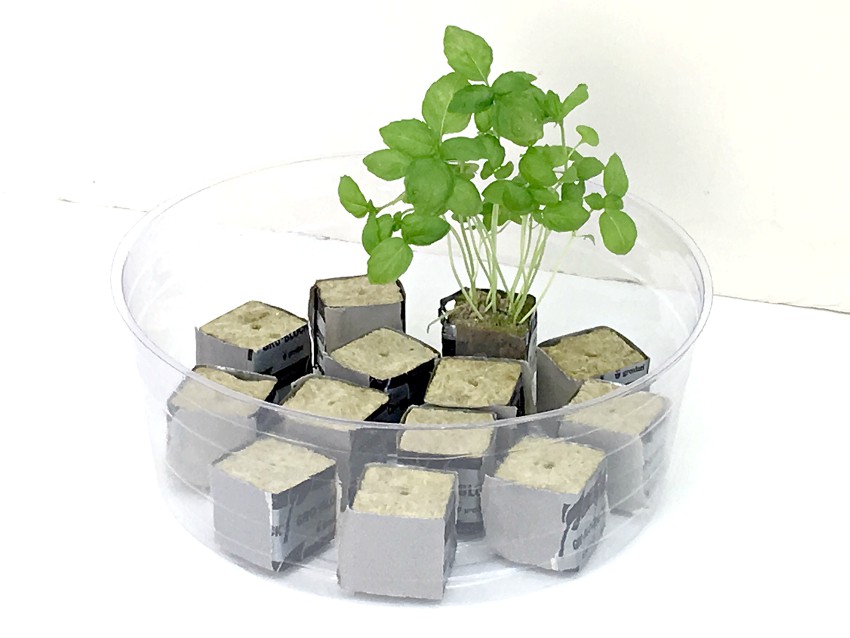 Rockwool Grow Cubes in a plastic saucer
2. Using a pointed object (like a pencil) poke several holes in the top of each cube.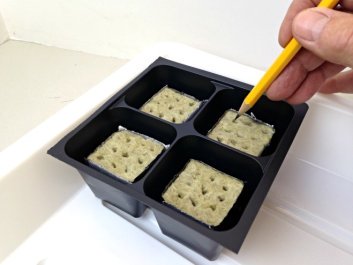 Preparing rockwool grow cubes for planting
3. Carefully sprinkle seeds over cubes. Try to get the seeds to fall into the holes - but don't worry if you miss - they will still grow.
Planting seeds
4. Cover seeds with a layer of sand for protection. Any type of builders sand will work.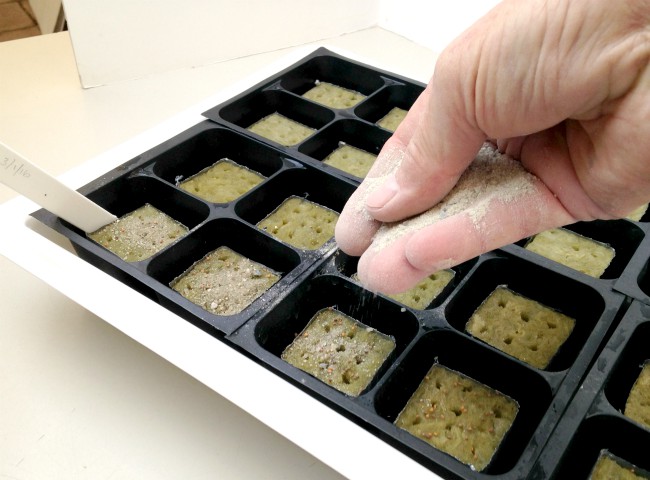 Cover seeds with sand for protection as they open.
Light
Light is not necessary for seed germination. In fact, some seeds germinate best in darkness (sand covering provides that).
Warm temperatures (65- 75 degrees) are imperative at this point however.
After new leaves emerge (in 2-3 days) move grow cubes into more light - a couple of hours of direct sun if possible. New seedlings crave light. 


Watering New Seedlings


An even balance of water and air is critical for for seeds to sprout. This can be difficult in soil - but not with Rockwool Grow Cubes!
Simply pour water into the tray - not directly on the seeds - to about 1/4" deep. The Rockwool grow cubes will wick the moisture up to the seeds gently and evenly. At the same time, air flows through the cubes creating an even balance of air and moisture. 
Wait until bottom of tray is dry to touch before rewatering.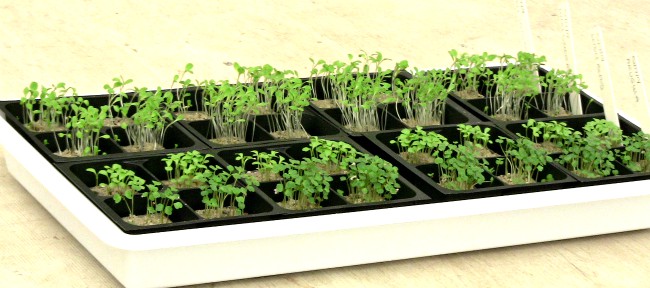 Seedlings growing in Rockwool Cubes - 2 weeks after planting.
Grower Tips:
  - Use clear water while seeds are sprouting. When new leaves appear apply nutrients at 1/2 strength. I use and recommend Dyna-Gro Grow 7-9-5 formula.
 - As seedlings mature they will gradually use more water. Always wait until tray is dry to touch before rewatering however.
Most seedlings sprout in 5-7 days. In 2-3 weeks you'll have mature seedlings that are 3-4" tall and are ready to be moved into a hydroponic planter.
When roots start growing out of the bottom of the grow cube, it's time to move them into a hydroponic planter.
Moving Seedlings to Hydro Planters
Hydroponic Herb Gardens - Tools for Success