Repotting Houseplants into Hydroponics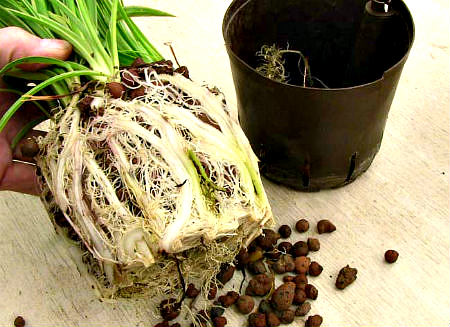 Spider Plant growing in Hydroponics
- Look at those roots!
Once you realize the advantages of hydroponics, you'll want to convert all your plants. Transferring soil plants to hydroponics is easy and almost any plant can be converted.

Removing the soil from a plant's root system might be a little scary the first time. Don't worry! Follow our guidelines and you'll be successful. 

Guidelines for Repotting Houseplants into Hydroponics

1. Use only healthy plants. This is not a good way to revive sick or diseased plants.

2. Begin with small (table top size) plants.  Get acquainted with the process before trying large plants. 

3. The best time to transplant is April to October. The active growing season for houseplants.

4. Don't transfer newly purchased plants. Give new plants 2-3 weeks to get acclimated to your growing envoirnment before transferring them to hydroponics.



Grower Tip: As with anything that's new, there's going to be questions. You can ask them here.

Also, some plants can be difficult to work with. We know because we've been transferring soil plants (of every type and size) for over 25 years for our corporate business. Send us a photo of the plant(s) you're planning on repotting we'll be glad to share our experience. 






Choosing Plants and Pots for Repotting