Poinsettia Care at Home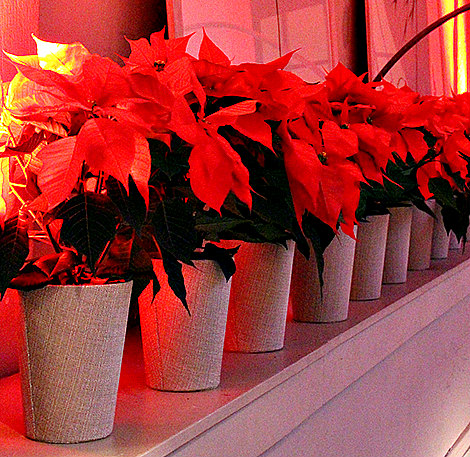 The most common problem with poinsettia care is incorrect watering.
Watering Guidelines for Poinsettias
Poinsettias (Euphorbia pulcherrima) are members of the Euphorbia family - which are cactus!  It's no wonder overwatering is a common problem with these plants.
The most practical way to judge watering is by weight. Lift the plant - if it feels light - like the pot is full of feathers, it's time to water. If it feels heavy - like the pot is full of bricks, better wait.

Typical watering schedule for poinsettias.
Plant
Size

Pot




Size

Watering
Interval
Amount of


Water

Mini
Table Top

4 1/2"

Twice
a week


1/2 cup

Standard




Table Top




6"

once




a week




1-2 cups

Large




Table Top

7" or 8"

once




a week

2-3 cups

Floor




Plant




10"

once




a week




1-2 qts
Being a member of the cactus family, poinsettias don't like wet feet and need to dryout between waterings. Applying water to dry soil can be tricky.    
When watering, make sure the soil is actually absorbing water. Water slowly at first, then apply full amount. Plant food is not necessary.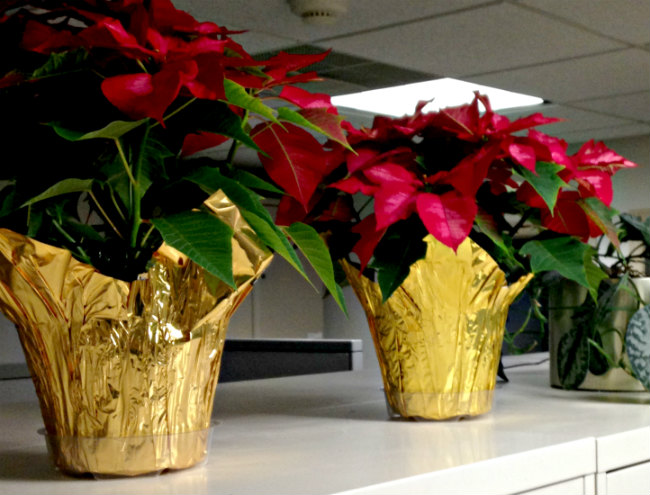 Clear plastic saucers makes watering easy. No more worries about the leaky pots and damaged furniture!
More Plant Care Tips
 - Keep plants as cool as possible. Avoid hot air drafts from the furnace. You'll feel a chill long before your poinsettias will. 
 - The amount of light your plants get isn't a major issue. The season for these plants is short and they've stored up enough energy to get through the holiday season. Also, flowers last longer away from the sun.
  - Allow plenty of time for plants to dry out between thorough waterings. Poinsettias are related to cactus and they don't like wet feet.
Watering poinsettias with traditional growing methods can be a guessing game. If you want to make poinsettia care easy see Setting Up Poinsettias in Our Self Watering System!
Setting Up Poinsettias in Our Self Watering System
Getting Your Poinsettia to Rebloom